Georgian Government Signs Deal with World Bank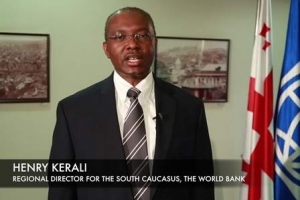 On May 22, the Ministry of Finance of Georgia, Nodar Khaduri and World Bank Regional Director for the South Caucasus, Henry Kerali signed an agreement on mutual cooperation between the parties. According to the document, the International Bank for Reconstruction and Development will provide the Georgian government with a loan amounting to $120 million, to encourage the Programmatic Private Sector Competitiveness Development Policy and Software Development Policy of Georgia's Inclusive Growth.
The Ministry of Finance of Georgia notes that the recent agreement with the World Bank will also involve establishment of the Investors Council to promote better coordination between the business sector and government. Negotiations on developing laws with regards to capital market and deposit insurance are also planned to be discussed within the framework of the deal.
"The Agreement between the World Bank and Georgia will encourage further acceleration of the reforms in private and public sectors in our country. Specifically, the agreement concentrate on the priority issues of public finance governance, health protection, bond market development and improvement of buying system to name few," noted Khaduri following the signing ceremony.
The Minister also emphasized the significance of the World Bank's support in upholding the reforms in Georgia, and expressed his readiness to continue further collaboration.
The agreement is a part of a socio-economic development strategy of Georgia and coincides with the 2014-2017 cooperation strategy established between Georgia and the World Bank.
28 May 2015 22:55