Silk Road Forum to be Held in Tbilisi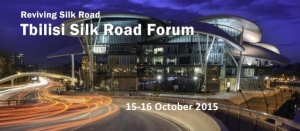 Tbilisi will host the annual Silk Road Forum from October 16th-17th. Silk Road is an initiative launched by the Prime Minister of Georgia, Irakli Gharibashvili, and is supported by the Government of the People's Republic of China and the Asian Development Bank.
The two-day forum will promote the sharing of ideas, experiences and expertise by business executives and policy makers. The discussion panels will be held on the following topics: new opportunities by Silk Road to improve trade and economic cooperation; transport and infrastructure: simultaneous consideration of trade requirements between countries; promoting trade along the Silk Road: to overcome the main obstacles for harmonization; Energy Silk Road: piplines and electricity trade without frontiers; the utilization of investment opportunities in Georgia.
The event will be opened by a welcome speech by the Prime Minister of Georgia, with a Declaration of Partnership to be adopted within the forum.
The event will be moderated by the world-renowned economist, President of the Institute for Liberty and Democracy (ILD), Dr Hernando de Soto. At the same time various activities will be held, such as thematic presentations, face-to-face meetings between companies etc.
On the second day of the even there will be an exhibition with products from all of the Silk Road member countries, as well as discussions on the investment potential of Georgia and more specific project proposals.
Government representatives from 30 countries, including China, the United Arab Emirates and Armenia among others, will take park in the Tbilisi Silk Road Forum.
Vice-premiers and Ministers will be in attendance as well as 20 international financial and donor organization officials. The event will be attended by business representatives from different countries and it's expected that around 700 guests will be visiting Georgia to participate in the forum.
09 October 2015 20:52