Matchavariani: ADB is Ready to Fully Finance Rikoti Section Construction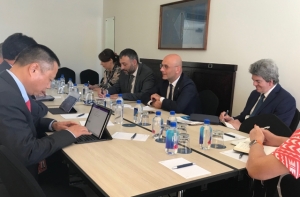 "The Asian Development Bank (ADB) has expressed readiness to fully finance the construction of the remaining part of Rikoti section of the east-west highway, the works for which are to commence this year," noted Ivane Matchavariani, Finance Minister of Georgia, at the meeting with Shixin Chen, Vice President of the ADB.
At the negotiations taking place within the scope of the Annual Meeting of the ADB, the parties discussed the progress of the investment projects, implemented in the country, financially assisted by the ADB, including the significance of the Rikoti and Kvesheti-Kobi segments.
"The ADB has once again expressed readiness to become the partner of Georgia in terms of the education reform process, assist us in the economic reforms direction for implementing new programs, contributing to the economic development of the country," noted Finance Minister.
The conversation also touched the possibilities for holding the ADB Annual Meeting in Georgia. It was said that the country has already made an official request to host such a large-scale event in 2021 or 2022.
The parties positively evaluated the perspective and noted that Georgia, with the stable economic development for the recent years, has all the capabilities to share its experience with many other ADB member states.
Translated by Ketevan Kvaratskheliya
07 May 2019 10:18