Cleaning Up the Globe with Bio-fuel Production Technology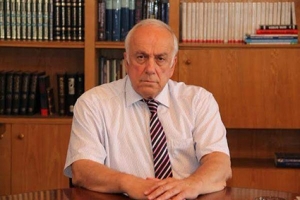 Bio-fuel is newly developed and still developing technology of oxygen-containing solutions, produced from plant biomass, to replace petroleum (oxygen free oil hydrocarbons). This worldwide technology is growing in importance in connection with a visible exhausting supply of oil. The creation of bio-fuel (biodiesel, bio-ethanol) production technology began in Georgia almost two decades ago at the Academy of Sciences of Georgia, Durmishidze Institute of Biochemistry and Biotechnology, under the supervision of Professor G. Kvesitadze. Participation in international projects and conferences and international collaboration with the US, Europe, Japan, and South Korea, have allowed for an accumulation of great experience in the conversion of vegetation biomass into different valuable products. For Georgia the production of bio-fuel has great significance as the most southern/westerly parts of the country, Adjara, Guria, Mengrelia, and Paliastomi lake area, are extremely rich in natural vegetation- good substrates for the bio-fuel production.
Georgia Today met with Giorgi Kvesitadze to discuss Georgia's role in Bio-fuel production.
Q: You recently went to Romania. What was the main purpose of your visit?
A: First of all, I have to express my deep thanks to Nicolae Dura, Professor of "Ovidius" University of Constanta, Member of the Academy of Romanian Scientists, who organized my invitation and was supervisor during my stay in Romania. The main aim of my visit was an attempt to establish collaboration with the Academy of Romanian Scientists and the Ovidius University of Constanta. Romania and Georgia are located on opposite sides of the Black Sea and have many joint interests, including science. Romania has developed a lot in last decade is a part of the EU and close scientific relations with this country are definitely advantageous. While there, I was able to present the National Academy of Sciences of Georgia, its history and current status, after which the idea to write a short communication about the history of Georgian science and its roots arose. Our Romanian colleagues were particularly interested in the fact that, since the 4th century, representatives of the Georgian Orthodox Church had been working in different countries such as Palestine, Serbia, Romania, Bulgaria, Greece and Byzantine. Georgians earned a good reputation were actively engaged in different fields of study including Theology, Philosophy, Astrology, and Math. In the 11th century two academies in Georgia: Gelati located in the west and Ikalto in the east of the country were closely collaborating with the above mentioned countries. The soviet time was also extremely important for the development of Science in Georgia. Now, the National Academy of Sciences of Georgia has inherited and is continuing the traditions of the nation in close collaboration with the Javakhishvili Tbilisi State University.
Q: What were the other items of discussion in Romania?
A: We discussed different scientific directions which are significant to both countries, such as the production of a new type of biologically active compound, which has yet to be introduced in the industry. The USA, China and a number of European countries are conducting research to discover the existing biological potential of different organisms for practical realization. Especially interesting is the production of secondary bioactive metabolites due to biodegradability.
Another subject for active discussion was joint participation in the creation of new technologies having worldwide importance. Not long ago, I received a letter from Mr. Al Franken, Senator of Minnesota, in which he proposed possible collaboration between the USA, Ukraine and Georgia in order to develop technology and produce bio-fuel (bio-oil, bio-ethanol, bio-methanol) from vegetation on an industrial scale. The creation of bio-fuel (biodiesel, bio-ethanol) production technology started in Georgia almost two decades ago at the Academy of Sciences of Georgia, Durmishidze Institute of Biochemistry and Biotechnology, under my supervision. Recently, several know-how based technologies have been developed.
In Romania, I visited the Danube Delta, which is 3,600km2. I was amazed to see hundreds of thousands of different kinds of birds. There is also intensive growth of plants, including algae, which can also be effectively used as substrates for the production of bio-fuel. As indicated by the special experimental study recently carried out in Georgia, the algae biomass from the Danube Delta can be effectively converted into nontoxic protein containing biomass. The area of vegetation in the Danube Delta is an extremely rich source for the production of a large quantity of extra food rich in protein and other vitally important compounds.
Q: Do you plan to have scientific collaboration with different companies?
A: Yes. We have established scientific contacts with American, German, Spanish and Chinese companies. But for me it is a priority to closely cooperate with our neighbors: Russia, Turkey, Armenia and Azerbaijan. For example, the creation of agricultural, ecological and other such projects covering the distance from the Black to the Caspian Sea seems to be economically very promising and effective. No doubt many European and Asian countries will also be interested in participating in such projects.
Dimitri Dolaberidze
15 October 2015 21:58