Old Town Hostel in Top 5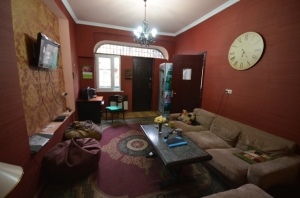 The Old Town Hostel in Tbilisi is listed among the top 5 Hostels in the World in an article by the travel magazine No-Yolo.
Author of the article, Ciarán Miqeladze, praises the hostel calling it "amazing" and "hard to recreate". Impressed by the staff and owner, the author believes that seeing the guest having an exciting experience is far more important than making a quick dollar.
"The social experience in this hostel is amazing. The owner once told me that he didn't want to create a barrier between the employees and the guests so he decided that there would be no reception desk," the article reads.
Miqeladze describes the hostel staff as friendly, who address every small concern and make sure the guests don't have a superficial experience.
"Rather, they work on getting you to see the real Tbilisi for all her wonder. As a result of this, people regularly return, friendships are made, and guests leave with a smile on their face. There really couldn't be a better hostel in the world than this place," says the author.
Old Town Hostel is located just right off Leselidze, which bridges Freedom Square and the Old Town, near Gudiashvili Park.
Ana Akhalaia
17 October 2015 19:23