Opposition MP Nika Melia Loses Political Immunity, But Gets out of Jail for 30,000 GEL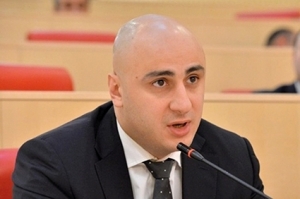 Georgian Parliament removed opposition MP Nika Melia's political immunity at a plenary session on June 26. 91 politicians voted in favor of lifting his immunity, with zero against.
Speaking before the vote, Melia, from the United National Movement, told MPs: "Today, I am free, but you should be feeling otherwise, standing there in awkward obedience… I believe that I am on the right side of history and you are on the wrong."
"I will have a lot to say with pride to my children and grandchildren and you will have little, especially considering that you allow the enemy to sit in the seat of the Chairman of Parliament," he continued.
MPs debated the motion for over five hours in parliament, whilst Melia's supporters protested outside.
According to the Georgian Constitution, unless Georgian MPs are found in the act of committing a crime, they can only be prosecuted, arrested or detained with Parliament's permission.
Melia is suspected of organizing, participating and leading mass violence which broke out during the protests on June 20 - 21 on Rustaveli Avenue.
Thousands of protestors gathered after Russian MP Sergey Gavrilov addressed Georgian Parliament from the seat of the Parliament Speaker. The first day of protests ended violently when protestors attempted to enter the parliament building.
Police used tear gas, rubber bullets and water cannons against protestors, injuring many, some seriously. 240 protestors and police officers were hospitalized as a result.
The Interior Ministry has launched an investigation into Melia's participation in the violence under Article 225 of Georgia's Criminal Code. If convicted, he could face a 6 – 9-year prison sentence.
Melia is accused of telling protestors to enter Parliament on June 20. He addressed demonstrators before the protests became violent.
"If those who should resign do not step down within an hour, I believe that we have nothing left to do here in front of Parliament: we have to march peacefully, with our hands in the air, into the parliament building and make our protest even more intense. We will come out once they resign," he said.
Protests are now entering their seventh day. The ruling party Georgian Dream met the first of the protestors' demands to introduce proportionate elections in 2020. However, protestors still call for the resignation of the Minister of Internal Affairs Giorgi Gakharia and the release of three remaining protestors who detained during the demonstrations- 51 were reportedly released on June 26.
On the afternoon of June 27, Melia was released on 30,000 GEL bail. Judge Temur Gogokhia, who announced the decision, said that Melia will instead remain under house arrest.
The Prosecutor's Office demanded Melia's imprisonment, while Melia's lawyer appealed for a 10,000 GEL bail.
Police last detained Melia in June 2018 during an anti-government demonstration in Tbilisi, after which MPs debated his political immunity. Melia was allowed to keep his immunity.
Opposition MPs have criticized the government's decision, accusing the government of creating a dictatorship.
"Bidzina Ivanishvili's team refused to discuss Gakharia's criminal and bloody decisions, instead focusing on sending their political opponent to jail," said Giga Bokeria, European Georgia Party MP.
This is only the second time that an MP has been stripped of their immunity since Georgia gained independence. In 1999, Boris Kakubava lost his immunity due to suspicions that he was involved in the attempted assassination of Eduard Shevardnadze, President at the time.
By Amy Jones
Image source - Government of Georgia
27 June 2019 18:05