Take a Breath with Hope – Georgia Marks Week of Idiopathic Pulmonary Fibrosis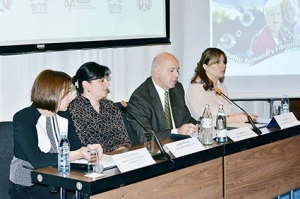 IPF is a very rare and irreversible disease that has a higher mortality rate than other malignant cancers. Georgia, together with the whole world marking a week of Idiopathic Pulmonary Fibrosis (IPF), held a special press conference organized by the IPF Patient Union and Georgia's Respiratory Association and Foundation of Genetic and Rare Diseases at Radisson Blue Iveria Hotel.
The main purpose of the press conference was to inform the public about the rare IPF, in order to timely diagnose and correctly treat and control the disease. Participants of the press conference discussed and highlighted the severity of the disease and the importance of receiving the right treatment. The slogan of this campaign is "Take a Breath with Hope" with soap bubbles used to symbolize the program.
"Our aim today is to inform society about one of the rarest respiratory diseases, an irreversible progressive disease," Dr. Elene Sherozia said during the conference. "More than 5 million people around the world have been diagnosed with IPF, with approximately 110,000 people battling it in Europe as we speak."
Idiopathic pulmonary fibrosis was marked as a world day in 2012. Georgia actively joined them this year in what it considers a very important event through which the public will receive much needed disease awareness- it is estimated that 60% of patients have not yet been accounted for and are not in contact with a doctor.
"The disease is quite severe and if not treated it has fatal results," Kakha Kvachadze, representative of the Georgian Respiratory Association, said.
"The Fund of Genetic and Rare Diseases offers its support to those patient organizations that have formed recently. We hope that this decision will result in the desired result being achieved with the collaboration of healthcare structures," Anna Bokolishvili, President of the Georgian Foundation for Genetic and Rare Diseases noted.
22 October 2015 22:35