Frontline Georgia Presents Month of Short Documentary Screenings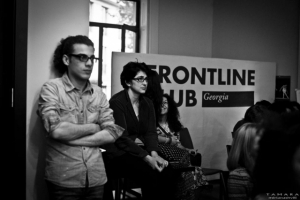 The Frontline Georgia Club is showing some amazing short documentaries every month thanks to their London International Partner's project. The project consists of films from various locations around the world.
Frontline Georgia is a media club aiming to serve as a politically-neutral venue for journalists, public officials, students, intellectuals and others. The Club holds talks, screenings, exhibitions, conferences and master classes as well.
Make sure you visit Frontline Georgia to enjoy their screenings from 30th October at 18:00
Entrance is free so don't miss out!
Program for First Screening
1. Santa Cruz Del Isolte

Director: Luke Lorentzen
2014/ 19min/ USA
2. Echo Chamber

Director: Guillermo Moncayo
2015/ 19min/ France/Columbia
3. Bahrain

Director: Natasha Bowler, Filippo Brachetti
2015/ 27 min 32 Sec/ UK
Nina Ioseliani
27 October 2015 13:42