Ivanishvili on Bakhtadze and Gakharia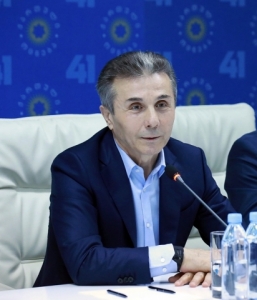 The Chairperson of the Georgian Dream party, Bidzina Ivanishvili, made an announcement today at the briefing of the ruling party. Ivanishvili talked about Bakhtadze and the named PM candidate, Giorgi Gakharia.

"It was Mamuka Bakhtadze's wish to resign and we let him go with thanks," said Ivanishvili.

"As you already know, PM Mamuka Bakhtadze has left his post. On Sunday we held a meeting with the party where he expressed his desire to resign, the whole party thanked him, and now today I can report that we let him go with thanks. I want to emphasize that the above happened in a very well-mannered way and it would serve us well if this culture carried on not only in our party but throughout Georgia, too. The man came with ideas, led the Government; while discussing his ideas, he always reached agreements with the party – implemented many of them and started processes for the rest. Now that he has fulfilled his mandate, he stepped aside to give development its way. I want to thank Mamuka Bakhtadze for his work as the Minister of Finance, as the Premier Minister of the country and for his well-mannered resign," announced Ivanishvili at the meeting.
After saying a public goodbye to Bakhtadze, Ivanishvili went on to talk about Gakharia, the new PM Candidate, saying that "Gakharia deserves this post because of his work for the public good."
Ivanishvili reported that it was he who suggested Gakharia's candidature for the post.
"This morning we held a political council of the Georgian Dream – Democratic Georgia party. At the meeting, being the Chairperson of the party, I presented the candidature of Giorgi Gakharia for the new PM. We received full support. Then we held a meeting with the majority and even there, no one questioned anything – that is the objective evaluation of our choice. You and society know Giorgi Gakharia well. I believe that he deserves this post because of his work for the public good and I think that the Parliament will support his candidature," announced Ivanishvili.
Meanwhile, a protest against Gakharia is ongoing on Rustaveli Avenue.
By Nini Dakhundaridze
03 September 2019 10:31