Tricks n Treats in Tbilisi this Halloween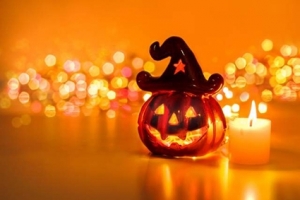 Not up for carving out your own pumpkin and handing out candies this year? You're in luck- Halloween is growing in popularity in Tbilisi and this year there is a monstrous feast of events to entertain all the family. So grab a costume and head out into the city- and let someone else clear up the cobwebs and ghoul slime the next day! Here are some of our suggestions for Halloween 2015:
1. Cafe 1940 opens its doors at 8pm and is inviting you to come along with your friends to enjoy a night of spooktacular entertainment. There will be a prize for the scariest costume! 
Address: 10 Ingorokva Str.
2. Fly over to the creepy Halloween party at Latino Bar
"If you're tired and haven't a clue what to do, then visit Latino Bar to find your inner peace...and meet some of the spookiest people ever!" 
Address: 14 G.Akvlediani Str
Doors open at 8:00PM
3. "Grab your masks and fly your broom, come to a party under the moon!" Canudos Ethic Bar invites you to enjoy delicious food and drinks with a sprinkling of magical music! 
Address: 31 Javakhishvili Str.
4. Famous Restaurant and Music Salon is wishing you a Happy Halloween and invites you to enjoy the scariest Halloween in Tbilisi with them. 
Address: 1 Abo Tbileli Str 
Doors open at 9PM
5. One for the kids: the annual Trick or Treat at the Ethnographic Museum. 1 Lari entrance, costumes and a bag of candies a must! Saturday, October 31, 4:00-5:30p.m.
Costumes can be rented at the following locations:
Children's Theatre, 8 Kievi St. 295 41 83
Centre Barbare, 67 Vazha Phshavela St. 232 43 25
Centre Babulia, 2 Laghidze St. 555576730
Centre Alica, Tetelashvili St. 296 61 43
Opera House, 25 Rustaveli Ave.
*Costumes can be purchased at Pepela, 22 Kostava St.247 9891
Keep an eye on georgiatoday.ge for updates on more 'scaretakular' events this Halloween weekend! Happy Halloween from all the Team at Georgia Today!
Nina Ioseliani
29 October 2015 22:50