Brit Punk Tiger Lillies to Perform in Tbilisi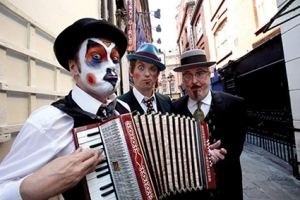 Altervision is to host the British musical trio The Tiger Lillies in Tbilisi at the Tbilisi Concert Hall.
The Tiger Lillies are well known for their unique sound and style which merges the macabre magic of pre-war Berlin with a savage punk edge. This is the second time the Tiger Lillies have visited Georgia, the first time being when they were invited to participate in Tbilisi Open Air 2015, the biggest open air music festival in the Caucasus. The group regularly performs at musical festivals, concerts and within social projects.
The Grammy-nominated Godfathers of alternative cabaret will perform 'The Very Worst of The Tiger Lillies' - featuring the greatest and 'worst' songs from their 30-year career.
The concert will be held on November 8, at 9:00p.m. Tickets are available at the Concert Hall box-office from 11:00-19:00. Prices: 30, 35, 55, 70 GEL.
Nina Ioseliani
05 November 2015 22:41