Investigation of Airbus A321 Crash On-Going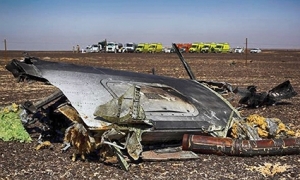 On October 31st a Russian Airbus A321 crashed in the Sinai Peninsula, Egypt, killing all 224 people on board, including 25 children. The Metrojet Airbus crashed 23 minutes into its flight from Sharm el-Sheikh to St Petersburg. Despite the fact that the black boxes have been found and the investigation is already underway, there is as yet no accurate information about what caused the crash.
The International Commission, consisting of Egypt, Russia, Ireland, Germany and France, are investigating the crash of the Airbus A321. At time of going to press, they have finished decoding the first black box and, according to it, the alleged cause of the crash was an explosion in the engine. However, experts still cannot say exactly what the reason for that explosion was, reports Tass Agency, referring to the Egyptian newspaper Al-Masry Al-Youm.
According to data obtained while decoding the black box, the pilots did not discuss any mechanical problems within the plane, says The Wall Street Journal, citing a source familiar with the situation. Representatives of the MetroJet Company also completely exclude the possibility of either technical problem or pilot error.
It is also reported that the second black box has been partially damaged and will require substantial work to extract information from it.
Almost immediately after the disaster, the Islamic State (IS) claimed responsibility for the Russian plane crash, yet both the Russian and Egyptian authorities unanimously rejected the suggestion of a terrorist attack. However, on November 4, IS repeated their statement about the A321, although in neither case did they explain exactly how it happened.
Rumors that a bomb may have brought down the Russian passenger jet appeared in several European and US media outlets on Wednesday. British aircrafts temporarily stopped flying to Sharm el-Sheikh, the BBC reported. The Office of UK Prime Minister David Cameron said a team of British aviation experts would travel to the Egyptian airport, where they would "make an assessment of the security arrangements in place" and "identify whether any further action is required."
The International Commission continues field research work at the crashsite. The investigation is not totally ruling out a terrorist act, according to Tass Agency.
Russian sources and officials warned against premature conclusions about the causes of the crash, noting that often speculation that appears in the media before the conclusion of the formal investigation, impedes the work of the official technical commission.
The Metrojet Airbus A321 crash of October 31 is considered the largest catastrophe in the history of Russian and Soviet aviation.
Eka Karsaulidze
05 November 2015 22:42