PASHA Bank Hosts Representatives of Diplomatic Corps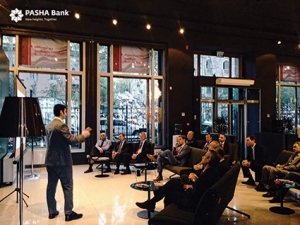 PASHA Bank Georgia hosted representatives of the Diplomatic Corps in Georgia on November 4th. PASHA Bank is a regional corporate and investment bank serving large and medium enterprises in Azerbaijan, Georgia and now already in Turkey.
PASHA Bank, being an active member of the EU-Georgia Business Council, gladly agreed to host a site visit organized by the EUGBC. The representatives of embassies from Italy, Greece, Turkey, Latvia, Poland, Iran, Bulgaria and Netherlands were hosted at PASHA Bank's Rustaveli 15 headquarters.
Among the discussed topics were the Bank's activities regarding the involvement in the recent international Telecommunication Meeting in Georgia, business conference in Brussels, Caspian Energy Forum and other business related gatherings that were sponsored by PASHA Bank.
"We, as the EU-Georgian Business Council, pay paramount attention to promoting regional economic cooperation between Azerbaijan, Georgia and Turkey. In this respect, we very much welcome the strategic decision of PASHA Bank to enter the Georgian market," said Zviad Chumburidze, Secretary General of EU-Georgia Business Council.
"We welcome the interest of the Diplomatic Corps in such regional financial institutions as PASHA Bank. More than that, we were very happy to have the privilege of hosting the representatives from different countries and introducing them to our company," said Shahin Mammadov, CEO and Chairman of the Board of Directors at PASHA Bank Georgia.
Katie Ruth Davies
05 November 2015 22:44