Head of UN's Agricultural Development Agency to Visit Georgia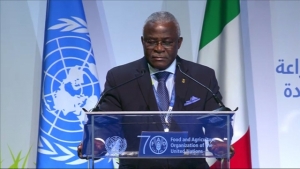 The President of the International Fund for Agricultural Development (IFAD), Kanayo Nwanze, is paying an official visit to Georgia this week.
Nwanze will meet with Irakli Garibashvili, the Prime Minister of Georgia, and Otar Danelia, Minister for Agriculture, to discuss the UN agency's continued commitment to promoting agriculture development and poverty reduction in the country.
A key point will be the revitalization of the agriculture sector, to reduce poverty and improve the lives of smallholder farmers through innovative approaches such as developing climate smart agricultural systems; improving access for farmers and agri-business to markets; modernizing the value chain approach and creating opportunities for young people.
To reverse the tide of Georgian youth migrating to cities in search of jobs, IFAD is committed to join forces with the government of Georgia to breath new of life into the agricultural sector, home to 43% of the rural population.
"Georgia has had strong economic growth during the last 10 years," said Nwanze, "but to ensure rural transformation and significantly reduce poverty, there is need for a renewed focus on agriculture."
During the visit, Nwanze will visit the IFAD-funded Agriculture Support Project, will have the opportunity to see first-hand an irrigation system rehabilitated by the project, and meet with smallholder farmers who are benefiting from the regular flow of water.

Since 1997, IFAD has invested a total of US$118.9 million in five programs and projects in Georgia. This has generated a total investment of $51.6 million, benefiting 82,850 households.
09 November 2015 15:22