Lisi Development Wins European Property Awards for Fifth Time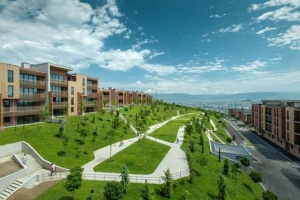 Lisi Development is the only Georgian development company which has won for the fifth time in a row at the European Property Awards, one of the most prestigious awards in the European real estate industry.
According to the company, Lisi Development was awarded for the project Lisi Veranda in the following nominations: The Best Multi-unit Development in Georgia and The Best Residential Development in Georgia. Lisi Development already has six awards from international real estate competitions.
Lisi Veranda is located at Lisi Lake, Tbilisi. Houses are built around a 4 thousand square meters park. The Maximum height of the buildings is four floors, which gives the complex an architecturally sophisticated look and seismic resistance.
The European Property Awards evaluates real estate projects and was founded 20 years ago. Currently, it is one of the leading competitions in the real estate industry. Projects presented in this competition are judged by world-famous real estate experts. This year more than 70 experts from European countries took place in the selection process.
"This award is very important for us because a company to receive this award should meet various criteria. This means that over the years we have maintained a standard quality. In addition, innovations are constantly being carried out in terms of quality as well, as in other directions," said Nodar Adeishvili, General Director of Lisi Development.
Lisi Development has been carrying out the project Lisi Green Town since 2010. The goal of the company is not only to create a residential complex with elegant architecture, but also to create a completely new, environmentally friendly and healthy living environment in Georgia.
09 November 2015 17:43