Georgian Police Solve 10 Million Bank Robbery Case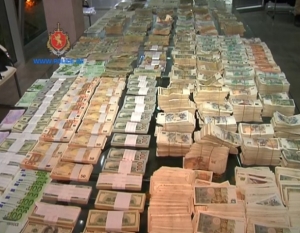 Georgian Police have detained two people thought to have been involved in the theft of 10 million Lari on October 24th.
Today officers of the Old Tbilisi Police Division announced that two people, Tamar K, 44, and Malkhaz B, 49, have been arrested for stealing 10 million lari ($4.5 million) from the Bank of Georgia.
The investigation established that on October 24th, Ilia Gelashvili, 88, illegally appropriated 9,197,771 GEL from the Bank of Georgia, located on Pushkini Street, Tbilisi.
According to investigators, Tamar K and Malkhaz B then hid the money he had stolen.
"Tamar K and Malkhaz B were detained in Tbilisi. During a search of the detainees' apartments and basements, law enforcement officers seized substantial amounts of stolen cash as evidence," a police statement reads.
According to the statement at this moment the search is still on for Ilia Gelashvili.
10 November 2015 18:03