Upcoming Wine Club in New York to Have Kvevri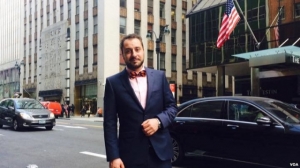 Georgian winemaker Erekle Khaziuri plans to craft a kvevri for his soon to be wine club in New York.
A previous wine club by Khaziuri was ranked by a New York Times article 25th among 52 remarkable places to visit.
Khaziuri plans to open the new wine club on Manhattan together with his Italian friend Mathew Baldasano.
"East village winery club will have around sixty members, who will make wine according to traditional Georgian methods. After the process, wine bottles will be sold at the high class stores such as ABC. We are planning to make our club open and pay all the members of the club for their services." Khaziuri said. "And my business partner Mathew told me that Georgian winery is quite different form the technology he is used to. Georgian wine is quite specific."
Khaziuri is studying wine-making in California, at the Devers Academy. Wine-making has been in his family for generations.
Although it is quite difficult to start a business on Manhattan, Khaziuri is confident that he will be able to open a successful club.
Nina Ioseliani
12 November 2015 16:48