Coronavirus Cases Emerge in Russia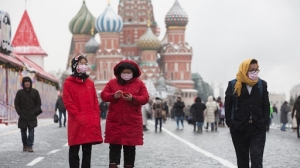 Two cases of coronavirus disease have been reported in Russia. "Two coronavirus patients have been identified. The virus infected Chinese citizens living in the Tyumen district", Deputy Prime Minister Tatyana Golikova told reporters.
The first confirmed cases of the respiratory illness in Russia have intensified the panic already prevalent. Russia has ordered the closure of its land border with China so as to prevent the deadly coronavirus infection spreading from its southern neighbor. Russia has likewise restricted Chinese tour groups from entering the country.
Prime minister Mikhail Mishustin said the decision to close the border along with the other preventative measures taken or impending were completely justified; "We must do everything to protect our people", he said.
According to current statistics, the total number of people infected with the virus has risen to 9,923. Of these, 9,782 cases are reported in China. There are 16 reported cases in Europe: 6 in France, 5 in Germany, 2 in Italy, 2 in the UK and 1 in Finland. Patients and persons in contact with the diseased are being quarantined and monitored.
The total number of dead is 213. None of the deaths have been reported outside China's borders.
31 January 2020 17:55