Paris Shootings: More than 120 Killed, Many Injured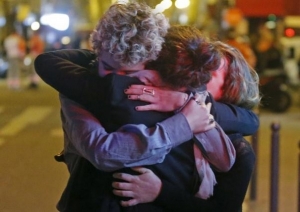 More than 120 people have been killed and several others wounded after a shooting and several explosions in Paris on Friday night.
French media reports that the shootings happened outside a restaurant in the 10th arrondissement, not far from the former offices of satiric magazine CharlieHebdo.
According to the Le Mond,e French President Francois Hollande has declared a national state of emergency and tightened French borders.
Witnesses have reported seeing two armed men enter the building and opening fire. "Bodies were lying in the street."
People were shot dead at bars and restaurants at five other sites in Paris. Eight attackers are reported to have been killed.
Police also confirmed an ongoing hostage situation at a rock concert at the Bataclan theatre in the 11th arrondissement of Paris.
Furthermore, in the capital, several explosions took place outside the Stade de France, where the national football team was playing a friendly match with Germany.
President Hollande was inside the stadium at the time, but was quickly rushed to the Interior Ministry to deal with the unfolding situation.
The gunmen's motives were not immediately confirmed.
14 November 2015 02:39