Tbilisi and Baku to Become Sister Cities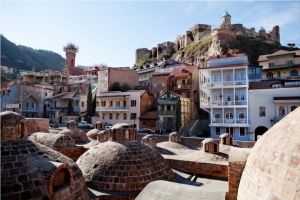 Georgia's capital, Tbilisi, and Baku, the capital of Azerbaijan, may become twin towns, according to a statement released by Tbilisi's Mayor, David Narmania.
"The negotiations have already been held and the relevant documents have been prepared. I believe that in the near future, Tbilisi and Baku will sign a document to become sister cities" said Narmania.
According to Narmania, the top priority would the development of tourism.
"We will first and foremost expand cultural infrastructures, which contribute to the development of tourism in those regions" Narmania added.
"Both former Republics of the Soviet Union, Georgia and Azerbaijan, have maintained relatively amicable relations in recent years. Azeris make up the largest ethnic minority in Georgia," reads and AzerNews article.
Nina Ioseliani
14 November 2015 18:03