USD 250 million To Be Invested in Poti Mega Port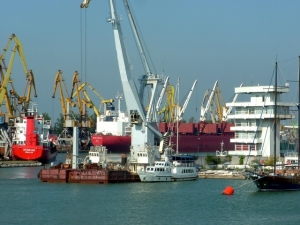 According to Poti Port owner APM Poti, USD 250 million will be spent to increase the capacity of Poti Port.
Following a positive Environmental Impact Assessment report from the Ministry of Environment, an application will be submitted to the Ministry of Economy on the first stage of construction and, after receiving the permit, further construction stages of the Poti Mega Port project will be presented.
The first stage includes building two docks, the length of which will be 300 meters, while the depth - 14 meters, enabling Poti Port to be able to process more than 1 million TEU containers. The project should be completed within 30 months.
APM Terminals says there are currently four ports in Georgia, which process about 20 million tonnes per year. However, the total capacity is more than twice that.
APM Terminals owns 63 terminals and ports in 39 countries.
According to the Company, decreasing oil prices, reduced remittances from abroad, sanctions on Russia, and military actions in Ukraine have led to the reduction of cargo volume at Georgian ports and the APM Terminals recognizes that building a new port alone won't necessarily solve the problem.
Yet during the recent troubled period, Poti Port, which owns 85% of the container traffic moving through Georgian ports, was able to upgrade infrastructure and equipment of the Port in order to make it the most productive and safest port in the country and to maintain its current position as a gateway to Central Asia and the Caucasus.
Ana Akhalaia
16 November 2015 20:13