Georgian iPhone+ Failed Video Annoying Customers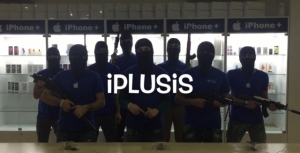 Team iPhone+ in Georgia, which is not a representative of Apple Inc, posted a video on vimeo that has angered Georgian customers.
Tbilisi based iPhone+ released a video to deliver their marketing messages through an imitation of IS, the Islamic State jihadist extremist militant group.
The advertisement has caused outrage among Georgian customers on social media.
In the 'fun' video published on Vimeo 11 hours ago the video, titled IPIUSIS, iPhone+ states that it always cares for its customers and offers them high quality service.
"The goal of our meeting is to announce that iPhone+ will become an official representative of Apple in January. Accordingly iPhone+ threatens other market players with harsh competition and calls them out for not defending the rights of customers," the video states.
A representative of iPhone+ in Georgia Goga Tirkia, said the video was a joke staged by their employees and it should not be viewed in a political context.
"It is a joke and doesn't represent public figures," Tirkia stated, "I'm sure we didn't make anything illegal. In countries with democratic values people understand the essence of freedom of expression. It was not political or social, therefore, completely in keeping with the context of freedom of expression. It's just a matter of taste."
17 November 2015 14:29