British Experts Discuss Human Rights in Georgia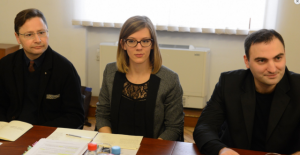 The delegation of UK experts held discussions on state policy towards human right violations.
The meetings aimed to discuss the findings of the research "Facing the Past: Learning from Shared Experiences", commissioned by Business and Economic Centre and funded by the British Embassy in Georgia. Furthermore, the delegation explored areas for possible policy solutions.
The delegation met with all major political parties and branches of government, a group of victims of past human rights violations as well as representatives of diplomatic corps and civil society.
"It became clear that there is strong desire in Georgia to establish the truth about past wrongdoings. It was suggested that a comprehensive truth seeking effort and review process, possibly aided by international expertise, could be an effective way forward and might help to take politics out of judicial processes in the future," the statement of UK delegation said.
The delegation was struck by the willingness of all political players to take the judiciary reform out of present-day party politics but they also heard about the many challenges that Georgia faces in dealing with the past injustices since independence.
The gains of such a comprehensive policy approach in dealing with past miscarriages of justice are improved rule of law and property rights environment.
The restoration of confidence in public institutions, an enhanced investment climate and job opportunities as well as being a major contribution to Georgia's democratic consolidation and political leadership in the region.
Shortly the delegation will issue an options paper proposing possible ways forward from the current situation.
19 November 2015 17:53