WHO Head Praises Georgia's Response to Coronavirus Threat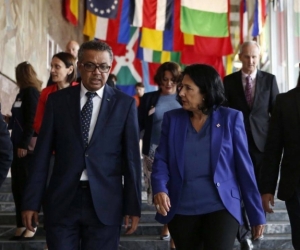 A telephone conversation has been held between the Director-General of the World Health Organization (WHO), Tedros Adhanom, and President of Georgia Salome Zurabishvili.
During the conversation, which was initiated by the President, they discussed the current situation in terms of the fight against COVID-19 disease.
The Director-General of the WHO confirmed that the Organization will continue to provide technical and expert assistance to Georgia in the process of overcoming the challenge of new coronavirus.
He praised Georgia's response to the threat of the spread of the epidemic.
Zurabishvili noted that Georgia was following WHO recommendations, and said that the situation in the country is under control and being monitored.
The WHO Director-General noted that the organization will continue to work in close coordination with the Georgian authorities.
Adhanom thanked the President of Georgia for the measures taken by the state for the prevention of the new coronavirus and said that this communication was a reflection of full cooperation and high political will.
During the conversation, the importance and necessity of taking preventive measures against the risks of spreading the coronavirus among the inhabitants of the occupied territories were discussed.
The head of WHO noted that the Organization will use all available resources to protect the population of the occupied territories from the pandemic.
By Ana Dumbadze
14 March 2020 11:59