No Changes to be Made in Holy Communion Rite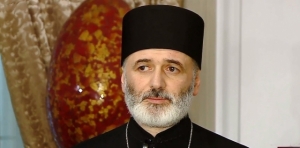 "No change will be made in the rite of the Holy Communion due to the coronavirus outbreak," Holy Synod of the Georgian Orthodox Church said after the meeting on March 20.
On Friday, March 20, the Holy Synod held a meeting to discuss issues related to the COVID-19 outbreak.
The meeting, the main topic of which was preventive measures against the spread of the new coronavirus in the country, lasted several hours at the Georgian Patriarchate.
Since the coronavirus outbreak started, some citizens have questioned the need for certain changes in religious rituals, in particular, to replace a common spoon and vessel used for all parishioners during the ceremony of the Holy Communion with disposable ones for safety reasons.
In response, the Holy Synod claims that using one spoon for all parishioners contains no threats as it is a "holy ceremony and people can't be infected this way."
One of the recommendations of specialists to prevent the further spread of coronavirus was addressed to the Church, asking them to not use the same vessel for everyone during Mass.
The latest updates claim that Georgia has a total of 44 coronavirus cases, with 1925 people in quarantine and 271 citizens under examination in hospitals.
By Ana Dumbadze
20 March 2020 20:54