Most Significant Investor On Georgian Market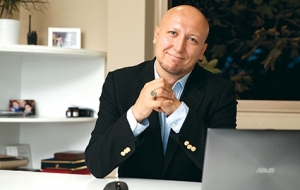 International holding MAQRO Construction entered the Georgian market with a number of large projects, the largest of which is residential complex Green Budapest, having a unique concept and attitude towards its customers. The company continues to invest in the Georgian market and has ambitious plans for the near future.
One of the largest investors in Georgia International since 2013, as well as Green Budapest, holding MAQRO Construction also brought international 4 Star Hotel Mercure Tbilisi Old Town, furniture factory Bellissa and more. Today the company boasts 400 employees, with that number increasing with each new project.
Georgia Today met Mr. Oguz Kaan Karaer, Deputy General Director in Project Development, Marketing, PR and Sales.
"Due to the fact that in Georgia there is a healthy and stable investment environment, we realize the need of quality construction on the Georgian market. Therefore, we decided to share our own experience and entered the market in 2013, since which time we have invested more than 70 million dollars. The residential complex Green Budapest was a 45 million dollar investment of international holding MAQRO Construction, which, based on the preliminary information published by the National Statistics Office of Georgia (NSOG), belongs to the ten largest investments according to the amount of direct foreign investments made to the country- with two projects: Green Budapest (45 million dollar investment) and Hotel Mercure Tbilisi Old Town (16 million dollar investment). The key to our success at MAQRO Construction has been a responsive approach to business, quality control and the management team's ability to recognize changes in the marketplace and adapt to them," he said.
EVERYTHING UNDER ONE ROOF
"Green Budapest is not just a residential complex, it's a lifestyle!" Mr. Oguz Kaan Karaer went on. "Purchasing a new apartment usually means the improvement of living conditions and the change of life for the better, however comfort in the flat tenfold increases when the construction company takes care of the household requirements of its residents. Green Budapest is located in the center of the city but it is surrounded by a recreation area, which guarantees the comfort and health of its inhabitants in ecological surroundings. The construction is carried out with the use of the latest ecologically safe and high quality materials. The multi-profile infrastructure, which includes a green area, where you even can find squirrels (we call them our first, honorable, inhabitants), basketball court, skateboard ramp, child center, fitness center, running track, outdoor and indoor parking lots, etc. are the main advantages of our complex.
The rush of city life makes each wasted minute important in the provision of elementary services to residents. The tenants of Green Budapest will be provided different kinds of services assigned to them with total safety. The opportunity is given to them by the company MAQRO Construction, the main principle of which is the creation of maximal comfort for people.
The residential complex Green Budapest built on the territory of 11700 m2, suggests 351 fully renovated apartments. Green Budapest creates full living comfort. That was the reason our company decided to pass not black or white frame, but fully renovated apartments according to European standards, bath with full headset, built-in kitchen and appliances. The only issue residents should take care of is furniture and large equipment. Also, it should be noted that during one year after completion of construction, security of the territory, cleaning, and landscape works will be performed free of charge.
The commercial part of the buildings is assigned to a fitness center, day care and kindergarden, market, restaurants and other significant objects according to the customers' needs; residents will have all comfort they need within the territory of the complex," Mr. Karaer said.
70% OF THE TOTAL SALES REACHED
"We started sales in September 2014 and we have now reached 70% of the total sales. These are not just numbers for our Company, as we have a very sensitive approach to our customers and take into the consideration their needs and interests. Approximately 30% of the apartments are bought for investment and 70% for living purposes. People 35 to 55 years of age, with a busy lifestyle, who want to have a very stable investment, purchase an apartment in Green Budapest, as they find it very beneficial to invest in real estate and especially in our complex, as to them it has a very favorable location and concept. Additionally, families who are willing to change their surroundings, because of the green area (as this is a real problem in Tbilisi), healthy environment, comfortable setting, perfect location, and quality construction are our current customers as well."
4 MONTHS PRIOR TO DEADLINE
"Green Budapest Construction is being carried out at a rapid rate and will be completed 4 months early, which means that residents will be able to move into their apartments in May instead of September 2016. This is especially good news for the customers who bought the apartment as an investment, as they can rent the apartment from May 2016 while the completion date for the payment terms stays the same (September)," Mr. Karaer told Georgia Today.
LAST CAMPAIGN
"Residential complex Green Budapest, by MAQRO Construction, launched its last campaign in 2015. MAQRO Construction took into account the current economic circumstances in the country and offered unprecedented payment terms, affordable for those who are willing not only to live in a new apartment, but to have a new way of living, as Green Budapest is not only a residential complex, but a lifestyle! At the end of the December people will have an opportunity to see the green area of the complex. The façade and planting work will be finished, and only after that, customers will be able actually evaluate our complex's main advantage. It will be a completely different complex in Tbilisi.
"Within the campaign it's possible to select the terms from various conditions. In case of full payment, a customer can get 15% discount, or the balcony or parking space for free. There is a second option – 5 years internal credit without interest. Yes, you can purchase an apartment, with only 30% down payment and distribute the rest through 5 years without any interest. The third option is a 0 % down payment. Difficult to believe? But it's true. You can make your dream come true very easily without any down payment. You can distribute the amount within 5 years with just 7% interest rate. This campaign will end at the end of December. So, don't miss this opportunity, you have a realistic chance to start a new life!" Mr. Karaer advised.
FUTURE PLANS
MAQRO Construction has high responsibility approach towards its obligations and its activity is carried out of a prior consideration of customers' interests. MAQRO Construction builds not only high quality buildings on a Georgian market, but provides trust and reliability to the Georgian people. "MAQRO Construction continues to invest in the Georgian economy. The company has already purchased 70 000 sq. meter of land for a new residential district, spending 160 million USD. It will be a totally unique concept and an innovative project on the Georgian market. Live happily! We will take care of the rest!"
Rusa Shamugia
19 November 2015 22:09