Inspiring Georgian Healthcare: German Nurse Nominated for Obama Award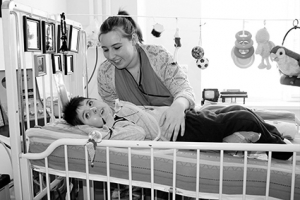 At the beginning of November, 22-year-old German Delia Jakubek was invited by the jury of the Act Now Youth Awards, organized by the Sauti Kuu Foundation of Auma Obama, to attend the annual grand gala which this year boasted nearly 2,000 attendees. Delia had been nominated by ASB Bonn / Rhein-Sieg / Eifel in the Inspiration category of the Awards for her outstanding work with disabled children in Georgia.
Klaus Meine of the Scorpions presented Delia's project in Georgia on November 2 in the Berlin Friedrichstadt-Palast. Delia was accompanied at the gala by ASB CEO Jana Schwindt-Bohn, Head of the ASB Training Center, Susanne Hartmann and Irina Kldiashvili, Executive Director of the Georgian Samaritan Association (SSK).
Georgia Today sat down with Irina Kldiashvili to talk about Delia's contribution to Georgian healthcare.
"Delia Jakubek came to Georgia in 2013 as a volunteer of the program 'weltwärts,' a development volunteer service founded in 2008 by the German Federal Ministry for Economic Cooperation and Development (BMZ). She planned to stay for 12 months to work within an SSK project in Children's New Clinic, Tbilisi, named 'Psychosocial assistance for long-term hospitalized children.'"
Children who are hospitalized often face stressful medical procedures while being in an environment which is unfamiliar to them. In order to support them during this process, SSK, together with its coalition partner the 'Georgian Association for the Care of Children's Health' has introduced a psychological and psychosocial support service for hospitalized children and their parents. Counseling and playful activities not only help them to reduce their fear and worries but also helps lead to fewer medical complications.
"As a trained and experienced nurse, Delia was extremely helpful in the project. She cared not only for the patients of the psycho-social service, but also for the patients of the palliative unit, which was newly opened in the Clinic.
Delia had working experience in a children's clinic in Germany and she saw the necessity of improving the service here immediately. But there was a long way to go. Together with SSK colleagues, and here I want to highlight the great support of Nadin Saxer who worked for SSK in 2014-15 as a program manager in the frames of a dual career, Delia wrote the project "Second Home." This included introducing European standards to the Children's New Clinic Palliative Care Unit and maintaining that system for two years. Although financial issues still exist, the Clinic hopes to keep up with the intended improvements. Training sessions have been and will be organized for nurses, doctors and hospital management in the handling and holistic care and treatment of the children, organized by Delia. To encourage the targeted children, and allow them an alternative to being constantly bed-ridden, appropriate child-friendly spaces are being set up (a medically-adapted bathing room and a therapy room) which are suited to their needs and will allow better nursing and therapy by psychologists, physiotherapists and occupational therapists. Finally, the project aims to improve communication between doctors and nurses."
As Georgia Today reported 12 nurses took part in the ten-day training given by Delia, and the 29th of May 2015 marked the successful completion of the first training course, with all the nurses becoming officially certified. The next training is expected to take place in 2016.
"Delia organized trainings for the nurses of the hospital, found sponsorship and extended her originally planned one year stay by six months. Then she stayed even longer. She is now supervising the project from Germany and in October 2015 she returned to visit Georgia in order to check on progress."
Delia now lives and studies in Berlin, working 3-4 times a week as a nurse on night shift. She also volunteers to help the many new refugees.
Managing Director of ASB-Bohn, Jana Schwindt-Bohn: "We are proud of Delia Jakubek who has driven this project with a lot of self-initiative, something quite unusual for a young woman! It shows how much difference a 22-year-old can make in other country."
"I love Georgia, it is my second home and my work in Georgia gave me the feeling I can handle everything that life throws at me," Delia told Georgia Today of her experience here.
The Act Now Youth Award is awarded by the Sauti Kuu Foundation for the volunteer work of young people in social, humanitarian and environmental projects. It is intended as a motivation for young people to make the world a better place. The Sauti Kuu Foundation has set itself the objective of supporting disadvantaged children and young people throughout the world. The young people nominated for the Act Now Youth Inspiration Award are people who distinguish themselves as role models in a very special way.
Katie Ruth Davies
19 November 2015 22:12