Local Activist Paints Zugdidi Dumpsters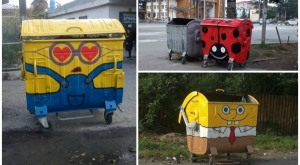 Zugdidi, a city located in Georgia's western region, Samegrelo, is being transformed by Rostom Zarandia, an artist who is transforming the city with his creative ideas.
Zarandia, decided to add some color to Zugdidi by painting ordinary garbage bins, and turning them into works of art for all to enjoy.
"The main message of my art work is to take care of the environment where we live." Zarandia said.
The waste bins have become quite an attraction for people, and liven up the area.
"Why should I quit decorating these uglybins when the drivers approve of what I am doing through showing their thumbs up, when passersby smile and forget about their everyday problems even for a moment, and children take photos with these colorful cans?" Zarandia added.
Zarandia has painted famous characters from popular cartoon shows, such as Spongebob Squarepants.
"I think we must build and take care of our small city together. These colorful trash bins will help our small cute city serve as an example in keeping the environment clean," writes the author on his Facebook page.
Nina Ioseliani
22 November 2015 11:57