Euro Climate to Represent Wolf Technologies in Georgia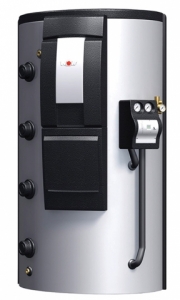 Euro Climate has been named the officially representative of German company Wolf in Georgia and aims to sell modern solar panels approved in the world's leading countries, high production heat pumps, central-heating condensing boilers, fan coil units, ventilation installations and various types and models of devices.
Euro Climate Ltd. was founded in July, 2015 by Vladimer Nartkoshvili, Giorgi Tsagareli and Giorgi Chargeishvili. The company provides retail sales and wholesale, and installation services on heating, cooling, ventilation, heat pumps and solar panel devices.
Wolf GmbH is a leading supplier of air-conditioning and heating technology. The company's rapid progress to the forefront of Europe's building services industry started in the air-conditioning and air-handling sectors. Wolf products are installed in opera houses, airports and office complexes.
Environmentally friendly and efficient heating units from Wolf quickly established themselves as quality brand products. As a systems supplier Wolf combines the five sectors of heating, ventilation, air conditioning, solar and combined heat and power plants, establishing itself firmly as the competence brand for energy saving systems.
Entry into the heating-technology sector in the early 1980s was a milestone in the company's success story. Wolf was also the leader in the introduction of boiler guarantees extended to six years. Wolf products have thus also been awarded design prizes. Wolf concentrates all its capabilities at its single production facility, which is sited in Mainburg, Bavaria.
"We believe that the combination of all these is a new step for the Georgian market. It can be said that Wolf is a flagship company in this sector worldwide," the company stated.
Ana Akhalaia
23 November 2015 21:06