Bernard Kouchner: Communication with Society Key to Reforms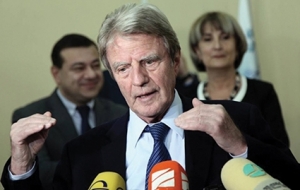 Last week, former Foreign Minister of France, Bernard Kouchner, came to Georgia for two days to discuss the development of the healthcare system.
Georgia's Minister of Health, Labor and Social Affairs, Davit Sergeenko, announced that Kouchner, currently the Head of the Global Alliance Board, has become the Head of Georgia's Consultation Board, as he is a doctor by background.
Kouchner, while attending a global conference at Tbilisi's exhibition center Expo Georgia, cited that reforms need to be planned and carried out meticulously. "I would like to assure you that reforms will be catastrophic if they are conducted with only the support of experts."
"I was the Health Minister of France for seven years and there were many challenges in my country. Reforms were also conducted there. We tried this and did not receive good results. I would say that we are at the first stage of a very significant political reform [in Georgia]. This is not only a medical reform. We refer to the political decisions that will enable the Georgian population to have access to medical services. Of course, such availability was not ensured in our country and Georgia has not allegedly achieved it," the French expert underlined.
He emphasized that political decisions are necessary that will provide all civilians with access to medical service.
"You cooperate with international organizations and experts but only to a certain level and that's why I mention politics" Kouchner said. He went on to say that only expert experience is not enough. "It is also important to explain what happens and what is expected. Sharing the goals with society is very significant. When you conduct such reforms, such a communication should exist," Kouchner said, adding that carrying out lucrative reforms in the healthcare system requires certain expenses.
As Davit Sergeenko announced, within the framework of his visit, Kouchner had the possibility to discuss the basic strategy of development of the healthcare system.
The French guest also held a meeting with medical society and students.
Zviad Adzinbaia
23 November 2015 21:22