IMF Positively Assesses Efforts of Georgian Gov't to Support Citizens, Private Sector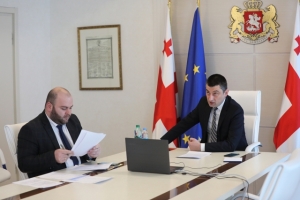 International donor organizations will allocate financial resources to minimize the economic impact of COVID-19 on Georgia, it was announced following a meeting between Georgian Prime Minister Giorgi Gakharia and IMF Mission Chief for Georgia, Mercedes Vera-Martin, which was held via videoconferencing. During the meeting, the parties summed up Georgia's foreign funding needs that could be met by the International Monetary Fund (IMF).
The IMF's technical mission visited Georgia within the framework of the Extended Fund Facility (EFF) program in the past two weeks. IMF will provide Georgia with additional financial resources based precisely on the mission's results.
As Vera-Martin noted, the pace of economic recovery in various countries around the world depends on the effectiveness of the fight against the coronavirus, adding that the coordinated steps taken by the Government in Georgia to deal with the crisis have been successful. It was also said that the economic and structural reforms implemented in recent years have rendered the country even more resilient in the fight against the pandemic.
The head of the Georgian mission of the International Monetary Fund assessed the measures taken by the Government of Georgia to support citizens and the private sector as effective.
Emphasis was placed on the importance of the assistance provided by both national and international financial institutions, as well as the rapid financial support from donor organizations, in order for the government to be able to continue implementing state funding programs in the future as well.
The head of government noted that the economic stimulus packages developed by international financial institutions to support the fight against the pandemic are of the utmost importance for Georgia – a country with a developing economy – in order for it to be able to continue to combat COVID-19 in an effective manner and to minimize the negative effect of the pandemic on the economy.
As Giorgi Gakharia stated during his conversation with Mercedes Vera-Martin, even though it is impossible to predict the scale of the pandemic today, the Government of Georgia is already working on a post-crisis plan, which prioritizes two issues of the utmost importance – citizens' health and economic development, adding that Georgia is counting on the support of its partners and donor organizations with regard to the latter issue.
The head of the Georgian mission of the International Monetary Fund confirmed the IMF's readiness to expand future cooperation with Georgia. For his part, the head of government thanked the IMF for active cooperation and its support of Georgia.
Prime Minister's Advisor on Economic Issues Beka Liluashvili also participated in the video conference.
Source: Georgian Government's Press Service
14 April 2020 11:03