Georgian Gov't, Patriarchate Agree Not to Close Churches on Easter Night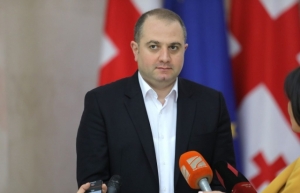 With the joint decision of the Georgian government and the patriarchate, churches will not be closed on Easter night throughout the country.
Advisor to the Prime Minister Irakli Chikovani and the head of the press service of the Patriarchate, Archpriest Andria Jagmaidze made corresponding statements on Wednesday evening.
However, they emphasized that services will be conducted in accordance with the recommendations.
As the Prime Minister's spokesman said at a briefing at the government administration, only clergymen will be allowed inside small churches, while a 2-meter social distance will be maintained in large temples.
"All safety standards set by the Ministry of Health will be observed in the churches," Chikovani said.
"We have decided that the parishioners should come to the church before the start of the curfew (9 PM) and leave the church at 6 AM in the morning after the Easter service," Archpriest Jagmaidze stated.
"This is a very favorable condition that allows the parishioners to fully participate in the Easter service," he added.
By Ana Dumbadze
15 April 2020 21:20