Young Georgians' Invention to be Presented at Dubai Technology Exhibition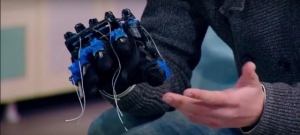 Young Georgians will present their invention, the Interactive Glove, at the Technology Exhibition held in Dubai.
Their Interactive Glove is a device used with real hand movements to manage and feel virtual objects. The target market will be gamers and IT developers. The Glove could also have use in the medical and military fields.
The inventors will have the opportunity to meet with the heads of leading technology companies on the world market.
The Interactive Glove project was invented by Lasha Getsadze, Dimitri Tskhovrebadze, Giorgi Gabarashvili, Simon Invia and Giorgi Meshveliani.
24 November 2015 16:22