Georgia Approves New Law to Ban Early Marriage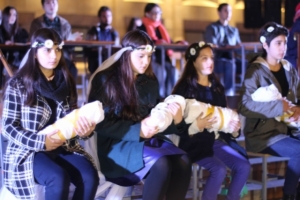 Georgia's legislative body has approved a law which bans early marriage in the country.
Following a rally against early marriage in Tbilisi, Georgia's Parliament passed the law at the first reading to ban the marriage of girls under the age 16.
According to the new law, parents will not have right to allow minors to get married, only the court will be allowed to grant them permission.
Tamar Kordzaia, Member of Georgian Parliament and author of the law, announced that in the future, marriages under the age 18 will completely banned.
Meanwhile, dozens of people in 13 different cities across Georgia have come together to protest early marriage, as part of the International Day for the Elimination of Violence against Women.
"Sexual relations between adult men and girls under 16 are a criminal offense and the state turns a blind eye! Early marriage is accompanied by juvenile pregnancy and childbirth that threatens the health and lives of girls!" the Georgian Women's Movement states (GWM).
In Georgia, four juvenile girls become mothers everyday. From 2011 until January 2013, 7,367 girls dropped out of school because of early marriage and related problems.
Eighteen is the legal age for marriage in Georgia. According to the GWM, the word marriage is unsuitable for the position of underage girls, who are in fact thrown out of their homes, married and sold as a commodity by their parents because of economic hardship or traditions.
They say to give the girls what they deserve: their own lives, choice, education and independence.
Photo: 17maisi.org
Tamar Svanidze
26 November 2015 19:36