Armenia and Georgia Introduce European Standards in Border Management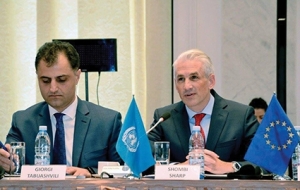 The Bagratashen-Sadakhlo border crossing point between Armenia and Georgia has seen one of the most important projects within the last two years. In the framework of the Integrated Border Management (IBM) project, both countries made changes at the legislative level, improved the skills of border officials, built new infrastructure and purchased new equipment. The IBM project aimed to reduce barriers for trade, transit and movement of people across the Bagratashen-Sadakhlo border crossing point and was funded by the European Union and implemented by the United Nations Development Program (UNDP). The summary conference was held in Tbilisi on November 25.
"Every day we talk about border security, migration flow and borders being open for economic development," said Shombi Sharp, Deputy Resident Representative of UNDP Georgia. "In this case, it is important to develop strong border management and especially integrated border management. Our project was extremely successful and I am pleased to say that today Georgia's borders and borders in the South Caucasus region are safer, more secure, but remain open in this challenging time. We have already reached certain achievements and are looking forward to continuing this important work."
With a budget of 4.3 million Euros, the project helped the governments of Armenia and Georgia to tackle smuggling and trafficking, ease people's movement at the Bagratashen-Sadakhlo border crossing point, equip and train border guards, and promote professional cooperation between the border management agencies of the two countries. The EU and UNDP also assisted the Government of Georgia to prepare and endorse the Border Management Strategy of Georgia for 2014-2018.
In addition, in the framework of the IBM project, both countries adopted and drafted Standard Operating Procedures for border crossing points (BCPs) as well as other important documents. Sadakhlo BCP was equipped with a stationary x-ray truck scanner, incinerators and borescope cameras, fifteen passport readers, and eighteen automatic number plate recognition systems were purchased and installed at all Georgian-Armenian BCPs. The Armenian side also purchased x-ray imaging inspection sets, ten passport readers and other office equipment.
First Deputy Minister of Finance of Georgia and Head of Revenue Service, Giorgi Tabuashvili noted that the Bagratashen-Sadakhlo border crossing point is a very important economic object, especially now, when Armenian became a member of the Eurasian Economic Union, and it is expected to increase the number of goods passing from Russia to Armenia through the territory of Georgia.
"The IBM improvement will also support economic development between Georgia and Armenia," Tabuashvili highlighted. "Neighbor countries are our main regional partners- that is why we pay special attention to BCP development with Armenia, as well as with Azerbaijan and Turkey. In this case, we have advanced a little further with Turkey – implementing a system through which cargo documented in the Turkish Customs is automatically displayed at our customs, and vice versa. This greatly simplifies and speeds up the process, which is vital for numerous businesses. We are interested in doing the same at Armenian and Azerbaijan BCPs," Tabuashvili added.
The initiative at the Bagratashen-Sadakhlo border crossing point is a part of the European Union assistance to the South Caucasus countries to introduce integrated Border Management, recognized as one of the most effective tools to maintain open but secure and controlled borders. A similar project is to be implemented at the land border between Azerbaijan and Georgia in the near future.
Eka Karsaulidze
26 November 2015 20:33