21st Century Healthcare Challenges: Tbilisi Hosts International Conference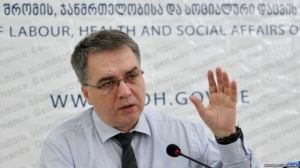 The Ministry of Health, together with international consulting company Global Alliance, hosted the conference- Healthcare Challenges in the 21st Century. Georgian authorities as well Georgian doctors attended the conference.
Georgian Prime Minister Irakli Garibashvili opened the conference and stressed the importance of the implemented programs in healthcare and the overall welfare of society. The Minister of Health, David Sergeenko, noted that Georgia has overcome the main challenges and implemented reforms successfully.
The main directions and challenges of Georgia's healthcare reforms were then discussed.
Ex-French Foreign and Health Minister who visited Georgia under his mandate as Chairman of Supervisory Board of Global Alliance, the international consulting firm that advises Georgia's Ministry of Healthcare on Universal Healthcare Reform, assessed Hepatitis C elimination, universal and primary healthcare programs and talked about other future prospects.
"You are already working to make progress in medicine; Georgia is the first country in the world on the way to eradication of Hepatitis C and it not only started but more than 5000 patients are already receiving drugs and are clear from the virus. That said, I would like to mention that uniting public and private sector efforts is important for achieving better investment opportunities. For this, Georgia needs more regulations."
26 November 2015 20:38