UNDP Holds Climate Change Conference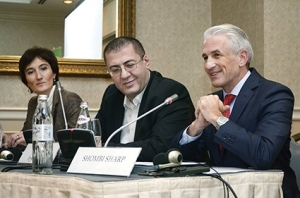 Prior to the Paris Climate Change Conference to be held from November 30 to December 1 in France, the Ministry of Environment and Natural Resources Protection of Georgia organized a conference with the assistance of the United Nations Development Program in Georgia (UNDP) to discuss Georgia's plans and how it will respond to climate change challenges.
The Conference was opened by the Deputy Head of UNDP in Georgia, Shombi Sharp, and the Deputy Minister of Environment and Natural Resources Protection of Georgia, Teimuraz Murgulia, and was attended by representatives of government, civil societies and international organizations.
"Climate change is one of the core development challenges the world is facing in terms of sustainable development," said Shombi Sharp. "Georgia is a very exceptional country in many ways but unfortunately not exceptional to the threats and impacts of climate change. According to the available data, the impacts of climate change are already quite severe and growing within the Southern Caucasus region. So we must come together to take action."
Georgia, as a responsible member of the international community, is going to take part in the UN Framework Convention on Climate Change (UNFCCC) in Paris in December 2015 and contribute to this process. A high-level delegation from Georgia will be led by the Georgian Prime Minister Irakli Garibashvili. The Convention aims to achieve the universal agreement on climate for the first time in over 20 years of UN negotiations.
Meri Taliashvili
26 November 2015 20:40