Excise Tax on Tobacco Products and Alcohol May Increase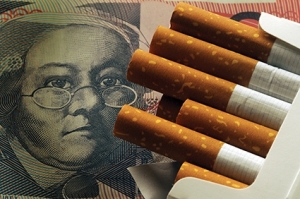 From January 1st, 2016, excise tax on tobacco products and alcoholic beverages may increase which is implied in Draft Law of Georgia on Amendments to the Tax Code of Georgia which was discussed at Executive Government Meeting on November 19, 2015.
The goal of the Draft Law is to tighten control on tobacco to get closer with EU Directives and to optimize the excise tax rate on alcoholic beverages.
"The World Health Organization demands maximum limitation on consumption of cigarettes and an increase of the excise tax is one of the measures," said the MP Zurab Tkemaladze.
Fixed rate of excise will increase on the following commodities from January 1, 2016: Filtered cigarettes (20 sticks) - with 0.20 GEL; Non-filtered cigarettes (20 sticks) – with 0.05 GEL; One stick of cigarette and 20 sticks of cigarillos – with 0.4 GEL; 1 kg of pipe-smoked, chewed or inhaled tobacco - with 5 GEL. Filter and non-filter cigarettes (20 sticks) proportionate excise will increase from 5 to 10 per cent.
Also, excise tax rate will increase on whisky, rum and tuffy, gin and juniper liquor from 10 to 15 GEL, while other alcoholic beverages and ethyl spirit (except for grape wine or grappa distillate-born spirit beverages, liquors and some other low content alcohol) excise tax rate will increase to 10 GEL.
Government requests Draft Law, submitted to the Parliament of Georgia, to be discussed in an accelerated manner. It is believed that the bill will increase income in the budget by about 90 million GEL in 2016.
The largest opposition party in Georgia, United National Movement critics the government's decision and says that will not support this bill.
"They lack income in budget and the first thing they are doing is to increase tax. They will have to increase not only excise but also all taxes next year because the economy is declining and their expenses are increasing. This is a bad initiative in all regards, wrong draft law and of course we will not support it," commented Petre Tsiskarishvili, member of the United National Movement.
According to Deputy Finance Minister Lasha Khutsishvili, Georgia has an obligation to increase the excise tax rate to EUR 90 per 1000 cigarettes by 2024. Excise tax on cigarettes should be increased annually in order to avoid sudden rise in price.
Some businessmen hope that excise tax will not be a tax increase mechanism in disguise and the Government will make sure to make a clear explanation of the process.
Ana Akhalaia
30 November 2015 19:58