After the Pandemic, There's No Going Back to Normal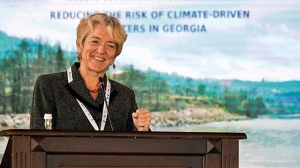 BLOG
The COVID-19 pandemic has caused unimaginable hardship, fear and sorrow, particularly in countries that ignored science and took precautions too late to prevent soaring death tolls. But few would deny that lockdowns and work-at-home regimes also brought some unexpected pleasures. Skies cleared in normally polluted cities. Traffic and construction halted, and people rediscovered the beauty of silence. Wild animals, boars in Berlin, goats in Wales, coyotes in San Francisco, strolled city streets in solitude.
Seeing images of crystal-clear canals in Venice or sea turtles laying eggs on empty beaches, people were stunned at the tangible evidence of how quickly nature could rebound, once given the chance.
Here in Tbilisi, residents marveled at the sudden freshness of the air, undisturbed by the dust and fumes that had placed Georgia's capital high on the infamous list of Europe's most-polluted cities. Clear views of the distant Caucasus mountains revived a sense of the majesty of Georgian geography. Urban dwellers planted herbs and vegetables. Accustomed to the frustrating daily commuter crawl, my intrepid deputy savored the experience of bicycling down the middle of an empty Rustaveli Avenue.
Now that countries like Georgia, that have successfully contained the virus, seek cautiously to reopen and restart the economy, it is important not to forget revelations like this that eased our lockdown deprivations. And as people race to reconnect with family and friends after weeks apart, however nostalgic we may feel, we need to digest that a return to normal is neither possible nor desirable.
On June 5, we mark World Environment Day, which is dedicated this year to the preservation of biodiversity. If the pandemic has taught us anything, it should be that we cannot continue to violate the limits of our natural world without risking our human health and well-being. Faced with the huge economic costs of pandemic shutdowns, many countries will be tempted to ignore this lesson, and set aside their efforts to fight climate change and protect the environment in favor of a swift restoration of economic growth.
However, at UNDP, we believe that a return to "business as usual" is simply not a realistic option. As UN Secretary-General Antonio Guterres said, "We simply cannot return to where we were before COVID-19 struck, with societies unneces sarily vulnerable to crisis. We need to build a better world."
Green needs to be the color of that better world. Our economies, our societies and we as individuals need urgently to rediscover how to live in harmony with nature. To avoid future crises, we need to persist in our efforts to meet the threats posed by climate change, through complex, multi-year efforts like the USD 72 million disaster prevention program that UNDP is implementing in Georgia in partnership with the Green Climate Fund, the government, and the Swiss and Swedish development agencies. We need to devise low-carbon models for growth. We need to invest in renewable energy and realize the potential of energy efficiency. Particularly in countries like Georgia, we need to develop "green tourism" that generates income and livelihoods from protecting nature rather than consuming it.
There is nothing new about these ideas, of course. They sit at the core of the Sustainable Development Goals and the Paris Agreement. But the pandemic has shown how urgent it is that we finally take action. The pandemic made the unthinkable real in many horrific ways, but also in some positive ones that showcased human ingenuity at its best; we need to retain this outlook as we emerge from our isolation.
"Build back better" is a slogan traditionally applied to natural disasters. At UNDP, this has evolved into our motto for post-pandemic recovery. In addition to the destructive impact we have had upon nature, COVID-19 has exposed the many cracks in the walls of our economies and social protection systems. If we try to pretend that nothing has changed, we risk generating even more devastating catastrophes.
But if we resolve to "build back better," to seize the moment not just to paper over the cracks but to rebuild our economies and societies on more resilient, greener foundations, we stand a chance to forestall the next crisis … and maybe even find a way to enjoy as a "new normal"- the clean air, mountain vistas and bicycle-friendly streets that offered such a welcome respite during the pandemic.
Louisa Vinton is the Resident Representative of the United Nations Development Programme (UNDP) in Georgia.
By Louisa Vinton, UNDP Georgia
04 June 2020 10:23