The Power of Persuasion: The Wolf Wows Tbilisi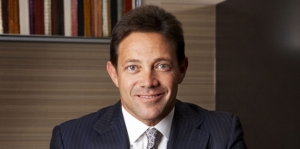 Salome Kukava, Corporate Communications Manager of Alliance Group Holding: "We are devoted to raising the literacy of people involved in business, as well as ordinary citizens. Any citizen should realise that saving capital is crucial. It should be diversified. The most common way to save is through banking deposits. There are also other alternative sources though, like bonds, company's stocks, etc. In this regard we regularly organize various trainings and master classes in Georgia. As we are witnessing some progressive steps towards the development of the capital market, we decided to invite the 'Wolf of Wall Street,' Jordan Belfort, to Tbilisi."
Last Saturday saw the much-anticipated arrival of Jordan Belfort- the self-made millionaire known as the Wolf of Wall Street. He was luxuriously accommodated in Tbilisi to pass on his secrets of success to the packed auditorium at the Tbilisi Concert Hall in a one-day masterclass. Georgia Today spoke to some of the participants to find out how it went.
A masterclass participant from a prestigious Georgian company, one of a number of colleagues who were paid to attend, praised the charisma and natural method of Mr Belfort, who, in all, spoke for some four hours. "No great secrets were revealed," she said, "but it was a very enjoyable trip into the world behind [Jordan's] sales techniques and success and we [at the company] will be putting his techniques into practise with a training program."
It was a particular hit with both young salespersons and students, especially considering that the latter had been offered cut-price tickets to be able to attend the masterclass and learn the tricks of the trade: good salesmanship and the key to wealth.
The only disappointment came when the joke that Leonardo DiCaprio, the Hollywood version of the 'Wolf of Wall Street,' was paying a surprise visit- which was very much part of the on-going intrigue in the lead-up to the masterclass- fell flat when the actor's double came out on stage after most the auditorium had already emptied.
Was the $100,000 spent on Jordan Belfort (not including the two flights booked to get him here- from New York and Australia, as, until the last minute he was unsure where he would be-, accommodation, or the special brand food and drinks flown in just to satisfy his demands) well spent? Let's answer that in a few years' time once the salespersons and students who attended his talk with such rapture have (or have not) put into practise his methods.
Katie Ruth Davies
30 November 2015 20:06