Wizz Air Ready to Resume Flights, Add Directions When Pandemic Situation Improves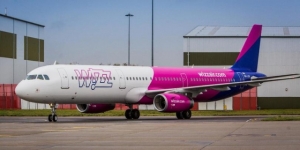 Following reports about the possible temporary abolishment of Hungarian lowcoster Wizz Air's base in Kutaisi, western Georgia, the company has released an official statement, saying that it is ready to carry out flights between Georgia and other countries as soon as pandemic situation improves.
"Wizz Air is actively monitoring the global pandemic and local epidemic situations, takes into account the regulations of the Georgian government and continues to operate in the country.
"Wizz Air has been operating in Georgia since 2012 and has expanded even further after 2016 when it established its base in the country. Wizz Air has become one of the leading airlines in Georgia, serving more than 2.5 million passengers, which has significantly contributed to the strengthening of tourism in recent years.
"The airline expresses its readiness to operate flights between Georgia and other countries as soon as regular commercial flights are resumed.
"We are also ready to add new destinations from Kutaisi International Airport as soon as the pandemic situation improves and the demand for travel begins to return to its previous level," reads the statement.
"We are not closing our base in Kutaisi, but we will temporarily suspend operations - most likely flights will be suspended until next summer," Andras Rado, the Head of Wizz Air Corporative Communications, announced at today's online press conference.
All three planes owned by the company which were based in Kutaisi are currently located at other bases.
The airliner will resume operations when it receives a government's notification to resume regular flights.
Earlier today, Natia Turnava, the Minister of Economy and Sustainable Development of Georgia, has responded to reports about the possible closure of the Hungarian airline's base.
"I want to assure our people and tell them that Wizz Air is not going anywhere, it feels comfortable in Georgia and remains loyal to its customers, citizens of Georgia," she said.
She added that today the global aviation industry is facing great difficulties and naturally, airlines are trying to reduce costs.
"It does not matter whether Wizz Air planes will be based at Kutaisi Airport or any other base of the company. The main thing is that it is not going anywhere. It continues to cooperate with the Georgian government," she stressed.
By Ana Dumbadze
Related Story: Economy Minister: Wizz Air is not Going Anywhere
01 July 2020 15:20