Frontera Employees Demand Immediate Repayment of 1 million GEL Debt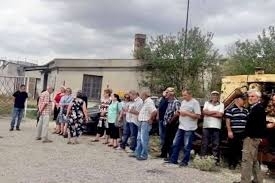 Employees of the oil company 'Frontera' held another rally in Dedoplistskaro today. The demand of the protesters is still unchanged - immediate repayment of the existing debt.
The debt amounts up to 1 million GEL. Employees of the company appealed to the court after they were fired by management without explanation.
"We are not paid our salaries, and the court dispute through which we are demanding the repayment of the debt is delayed. Today we have given the company the opportunity to export raw materials, however, they still are not going to satisfy our demand," said the protesters.
The arbitration dispute in the Hague court ended with the victory of the Georgian state.
After the Georgian government won a case in international arbitration against a scofflaw American oil company, the company's supporters in Congress have accused the ruling party in Tbilisi of doing Russia's bidding.
The Georgian government has decided not to terminate its contract with Frontera Resources Georgia Corporation and to allow the company to continue operating in the part of the original contract area where oil production has been underway since Soviet times, about 1% of the state search area, as about 99% of this area has already been returned by Frontera to the state in accordance with the arbitrage decision.
The Ministry of Economy and Sustainable Development explains that the decision of the state is conditioned by the strategic goals of the country.
By Ana Dumbadze
Image: Kakhaber Kupatadze
Related Story: Gov't Not to Terminate Contract with Frontera Resources Georgia Corporation
04 August 2020 21:46