Georgian Advertising Agency Wins at Eurobest Competition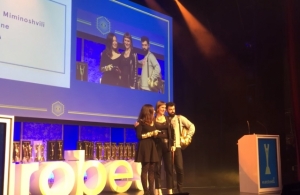 Georgian advertising agency Leavingston have won at the Eurobest competition held in Antwerp, Belgium.
19 groups from 14 countries took part in the competition, including two from Georgia, Leavingstone represented by Anano Mininoshvili and Giorgi Avaliania and Live Branding, represented by Ani Gvatua and Shota Chinchaladze.
Participants received a challenge from Antwerp City Hall, they had to come up with an awareness campaign against sexual violence in the city. They had 24 hours.
Eurobest is a part of the Cannes Festival which was founded in 1988 and has been held annually since 2008. Unlike the Cannes Creative Festival, only agencies from Europe can take part in Eurobest.
Eurobest is recognized as Europe's largest and most prestigious advertising festival. The first gold for Georgia was won by Windfor in 2011, which took part in the TBC Bank Campaign.
This year has been an important one for Georgian advertising. They received representation at the Cannes Film Festival for the first time and the country held its first Cannes Lion and Youth Eurobest qualifying competitions.
Video from marketer.com
04 December 2015 17:14