Travel off Path: Georgia Launches Digital Nomad Visa for Remote Workers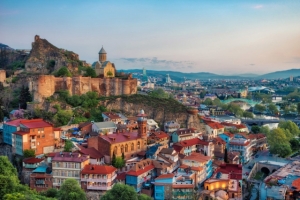 "Georgia has announced the official launch of their much-anticipated Digital Nomad Visa program, called 'Remotely From Georgia,' reads the article published by online publication Travel off Path, written by Kashlee Kucheran.
"If 2020 brought us anything beneficial, I would have to say it's the new global excitement of being able to work remotely, and not necessarily having to be chained to one office. Many nations are starting to realize just how big the remote working community is, and with the latest changes to all our lifestyles, how much bigger it will grow," notes the author of the article.
The publication stresses that 'Remotely From Georgia' will allow remote workers to stay and legally work their online businesses for at least 180 days and up to 1 year, with no annoying visa runs. It also works well for entrepreneurs, business owners, and even salaried employees who are cleared to 'work from home'.
This program also has a major perk that allows applicants to circumvent the current covid-related entry-requirements that ban most of the world from entering Georgia at the moment, reads the article.
There are 95 countries welcome to apply. The article says that the Prime Minister of Georgia Giorgi Gakharia tweeted about the program.
"Happy to announce the launch of a new state program 'Remotely from Georgia', allowing citizens of 95 countries to travel & work remotely from Georgia. As one of the safest countries in the world during the pandemic, we are ready to safely host int'l guests," the head of the government wrote.
By Ana Dumbadze
Source: Travel off Path
Related Story: GNTA Head: Program 'Work from Georgia' Kicks Off
01 September 2020 11:23