Inspiring Women: Nana Chkareuli, an Akhalgori IDP Bringing Hope to Tserovani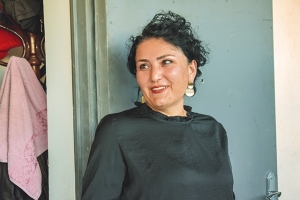 A mere 40km north of Tbilisi lies one of Georgia's largest IDP settlements, Tserovani. Following the 2008 war, Tserovani was one of the many IDP settlements created as housing for the thousands of those who were forcibly displaced from Tskhinvali, Akhalgori, and elsewhere in South Ossetia. Rapidly constructed in just six months following the war, Tserovani holds over 7,000 inhabitants in 2,000 homes, making it the nation's largest IDP settlement.
Seemingly overnight, thousands of families caught between the crossfires of Russian and Georgian forces were thrust into a new existence full of challenge; and the pre-war days of calm and routine were reduced to rubble literally and figuratively. In addition to mourning the loss of loved ones, their old lives, and grappling with a new reality, many were dealing with the onset of mental illness. According to a study done by the University of Adelaide, PTSD, depression, anxiety, or a combination of them became prevalent in a whopping 1/3 of Georgia's IDP population in those who previously had no mental illness. This results in even steeper hurdles within a new community such as Tserovani, or any one of Georgia's IDP settlements. Nana Chkareuli, an Akhalgori native displaced in Tserovani, made it her personal mission to change that.
Nana recalls the days, weeks, and ultimately years following the conflict as being full of confusion and pain. She found herself frustrated, waiting for help, and searched for ways to build a community, a real community, from scratch. Seeing and experiencing the struggles that her newfound community was facing, particularly women, she knew she had to make a change. She wanted to create something that would strengthen ties between neighbors, foster creativity, build trust, and create hope for a better future. That's where Ikorta comes in.
This female-driven social enterprise, founded by Nana in 2012, specializes in minankari, a traditional style of Georgian jewelry dating back to the 8th century. This medieval technique for jewelry is truly a labor of love, as each piece takes several hours of slow and steady design. Each piece is handcrafted and designed by local female artists determined to bring change within their community. Ikorta uniquely combines the medieval technique with modern and traditional design, resulting in jewelry that is as stunning and colorful as it is historic and meaningful. Speaking of historic and meaningful, the name holds significance as well. Ikorta comes from the 12th-century church and burial ground located around halfway between Tskhinvali and Akhalgori, the once homes of Tserovani's residents.
When asked what one of the most important aspects of Ikorta within Tserovani is, Nana replies, "dignity. "
"From 2008, we had so many visitors who wanted to see how miserable it is to be an IDP," she tells us. "It is important to share this reality, but often we don't feel good from it. Ikorta gives Tserovani a chance to share something good that has happened despite the war, and to show how strong we are and that we can achieve something and be proud. We can have dignity. "
There's something uniquely painful about being stripped of everything: home, a sense of belonging, and, oftentimes in war, family and loved ones. Hope becomes fear; routine becomes chaos; and once-common pleasures, like fresh bread from your favorite baker or leisurely walks through one's family village street, becomes obsolete. Places like Ikorta ease that discomfort and offer a sliver of normalcy in an otherwise abnormal way of life. It brings a sense of belonging to those who may feel isolated and misunderstood, and gives a sense of camaraderie in the shared struggle. In Tserovani's early days, domestic violence was on the rise, and many women were in need of trustworthy companionship and sisterhood. Waiting on the government for assistance oftentimes felt like a cruel shrug and emotional stability on par with a day to day lease. Over time, it became a place for local women to connect, vent, and empower themselves in ways previously thought impossible.
Thanks to Nana, Ikorta currently employs ten of Tserovani's IDP's, nine of which are women. Eight years after its inception, Ikorta has continued to evolve as a haven for Tserovani's residents to connect over a love of art and shared cultural plights. Additionally, Ikorta offers workshops to help stimulate Tserovani while teaching the unique art of minankari and the history of the people making up the settlement. Their jewelry can be found at a variety of local stores located on their website.
Ultimately, Nana Chkareuli is the community leader we should all aspire to be. She brings people together, she mends bridges, and creates hope where there is none. She's an empowered and determined woman overflowing with love and pride for her community in Tserovani that goes beyond the realms of a good neighbor, and it's contagious. It's safe to say that people like Nana Chkareuli don't come along every day, but when they do, something pretty special happens.
By Melanie Hamilton
17 September 2020 16:06