Coronavirus: Daily Numbers Continue to Rise in Georgia, New COVID Vaccine Gives Hope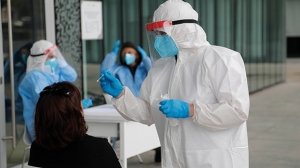 This Monday came with at least one piece of good news: early analysis of the drug-maker Pfizer's coronavirus vaccine trial showed that it is more than 90% effective in preventing COVID-19. This makes Pfizer the first company to announce positive results from a late-stage vaccine trial.
The expected 90% protection means that it will be as highly effective as the childhood measles vaccine, according to the NY Times. What's more, according to Pfizer, no serious safety concerns have been raised in relation to the vaccine. However, like many other details, it is not really clear how long the vaccine's protection will last.
Meanwhile, the daily number of coronavirus cases and the death toll continue to rise in Georgia.
To prevent the rapid spread of new cases of infection, the Georgian Interagency Coordination Council decided to impose additional localized restrictions: effective November 9 movement in the 7 big cities is restricted from 22:00 to 05:00.
"This restriction applies to both pedestrians and vehicles. The restriction will not affect international transport or the persons and their vehicles that move for the operation of strategic facilities, medical facilities, pharmaceutical facilities, media organizations and delivery services," Vice-Prime Minister Maia Tskitishvili stated, adding that that a person who violates the restriction will be fined 2000 GEL, while legal entities will be fined 10,000 GEL.
"On November 12, 3120 newly confirmed cases of infection were detected in Georgia in 24 hours, bringing the total number of infected people since February to 69,681," Aleksandre Khojevanishvili, representative of the Interagency Coordination Council, stated at a briefing at the Government Administration.
"We still maintain positive dynamics in terms of the growth of recovering people," he added. "2358 people recovered in the last 24 hours, and the total number of recoveries [since February] increased to 52,169.
"Unfortunately, 33 people died in the last 24 hours, including 11 in Tbilisi. The virus-related death toll stands at 599," he said.
Based on the official statistics, the new cases were distributed as follows:
Tbilisi - 1033
Adjara - 502
Imereti - 517
Kvemo Kartli - 192
Shida Kartli - 126
Guria - 95
Samegrelo-Zemo Svaneti - 332
Kakheti - 100
Mtskheta-Mtianeti - 107
Samtskhe-Javakheti - 95
Racha-Lechkhumi and Kvemo Svaneti - 21
Of 652 seriously ill patients, 329 are on artificial respiration.
At this stage, the number of active cases stands at 16,887, most of whom are being treated at home.
On Wednesday, it was announced that Georgian Prime Minister Giorgi Gakharia had recovered from coronavirus. The government administration disseminated the information, adding that he had taken a PCR test and the answer was negative.
He will continue to work in his usual regime.
PM Gakharia tested positive for coronavirus on November 2. He had mild symptoms and was treated at home.
On November 12, the Minister of Environment Protection and Agriculture, Levan Davitashvili, tested positive for coronavirus.
"The Minister feels well, he is at home and continues to work remotely. All those who came into contactwith the Minister have been identified and they have moved to self-isolation," the Ministry announced.
Against the backdrop of an increasing number of cases and the death toll, government officials are insistent the country maintains positive dynamics in terms of the number of recoveries.
By Ana Dumbadze
12 November 2020 19:16