PM Holds Intensive Meetings with Executives of Private Healthcare Facilities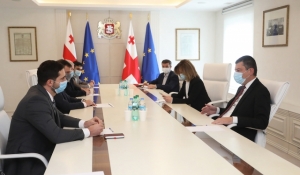 Giorgi Gakharia, Prime Minister of Georgia, continues to have intensive meetings with executives of private healthcare facilities in the process of COVID-19 management, taking into account the current epidemic situation in the country.
The Head of the Government of Georgia, together with Ekaterine Tikaradze, Minister of Health, and Ivane Matchavariani, Minister of Finance, met with representatives of Evex, Geo Hospitals and high-technology medical centers with the aim of inquiring about available hospital beds and mobilizing additional resources.
The PM was briefed in detail about the number of hospital beds currently available at each healthcare facility. He also inquired about the emerging needs of clinics if additional resources were to be deployed.
Managers of clinics noted at the meeting that they have the possibility to mobilize additional hospital beds both in terms of general therapy and intensive care units. They are apparently making concrete steps towards this end already. They also noted that such communication between the public and private sectors is very important as it facilitates more effective management of the situation and efficient response to the challenges.
The focus was made on the significance of avoiding an overburdening of the hospital sector and the role of healthcare executives and medical doctors in this process, making sure that no one is left behind, especially those who need medical treatment in the first instance. It was noted that it is not only important to hospitalize people with acute health conditions, but also to continue medical support of light cases at home through active communication with family doctors or at COVID Hotels under permanent medical supervision.
At the same time, facemasks and social distancing remain as the most significant preventive measures at the present stage of viral spread.
It was once again stressed at the meeting that the Government of Georgia continues to pursue its strategy of precision-targeted and localized approaches, and no systemic restrictions are intended.
16 November 2020 18:28