Home of American Pheasant's Tears Founder up in Flames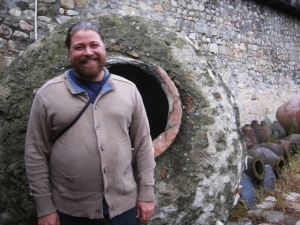 The Sighnaghi house of Pheasant's Tears's founder, American artist John H Wurdeman, burned to the ground on Saturday.
The house, where Wurdeman and his family lived for over 20 years, was completely consumed by flash fire yesterday night.
Fortunately, the house was unoccupied at time of the fire, but all possessions are lost.
On Sunday friends of the family came together in support.
"We are inviting friends here and abroad to donate to a special fund that we are making to support the family in their efforts to rebuild. Please join us in giving this beautiful family a beautiful expression of our love. If you wish to help by donating to the fund supporting them, please write us at: info@travellivingroots.com", the statement reads.
Wurdeman first came to Georgia in 1995 in search of singers who practiced the ancient art of Georgian polyphony. In 1996, he purchased a house in Sighnaghi, Georgia, a town famous for the arts with beautiful views and in the center of the wine region.
Wurdeman divides his time between his two passions - wine and art - and finds the two go quite well together. He founded Pheasant's Tears, a winery dedicated to preserving Georgian wine culture, a few years ago.
13 December 2015 01:20