Girchi Leader Summoned to Police After Renting 'Reformer Fitness' Center as Apartment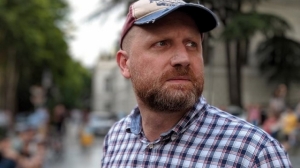 Zurab Japaridze, the leader of the opposition political party Girchi, was summoned to the police today in connection with 'Reformer Fitness.' Japaridze says last night the police used physical force to make him leave the building of the fitness center "Reformer Fitness" in Batumi, which he rented as an apartment and invited people to workout after gyms throughout the country were closed in accordance with the newly imposed restrictions.
The representatives of Girchi note that the fitness center is privately owned, accordingly, the police had no right to enter.
"We knew that Zurab Japaridze rented the place and invited people to workout. This is private property that police are not allowed to enter," they claim.
Giorgi Putkaradze, the owner of 'Reformer Fitness', said the law enforcers issued a fine of 10,000 GEL for disobedience to the decision of the government and are trying to close the gym.
He added that they are not going to pay a fine.
For the record, on November 28, the Georgian government has decided to tighten and expand restrictions throughout the country. Based on the decision of the Interagency Coordination Council, until January 31, certain economic activities are prohibited, including the operation of municipal and intercity transport, gyms and swimming pools, restaurants, etc.
By Ana Dumbadze
Related Story: Georgian Gov't Announces Tightened & Expanded Restrictions
30 November 2020 10:45