Shop & Dine: Gastronome Opens a Multi-Concept Store in Dighomi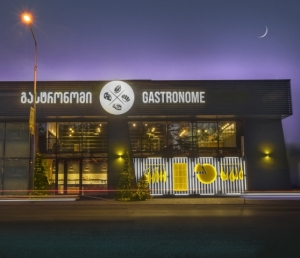 On December 24, Gastronome launched a new multi-concept store in Dighomi, designed to offer an exceptional shop-and-dine experience. If you're looking for a one-stop-shop without the dull, commercial feel of a department store, then we think we've got just the place for you.
The two-floor store offers a variety of experiences. Consumers can master the art of slicing prosciutto on a historical Berkeley design cutter, taste cheese and wine, and more.
"Gastronome has been on the market for one year and we have already opened our third branch. The Dighomi branch is unique because we offer customers a wide range of services. After the removal of current regulations, a bistro restaurant will be launched on the second floor, with dishes prepared with only premium quality products. This is the first project offering a multi-faceted shop-and-dine experience in Georgia."
Gastronome offers customers only the highest quality food products and delicacies. The store features American premium steak slices, Italian and German sausages, Swiss and Dutch cheese, vegan and gluten-free products, and sweets and drinks from the world's top producers.
Apart from Dighomi, one can also visit Gastronome stores in Vake and Sololaki.
24 December 2020 14:46